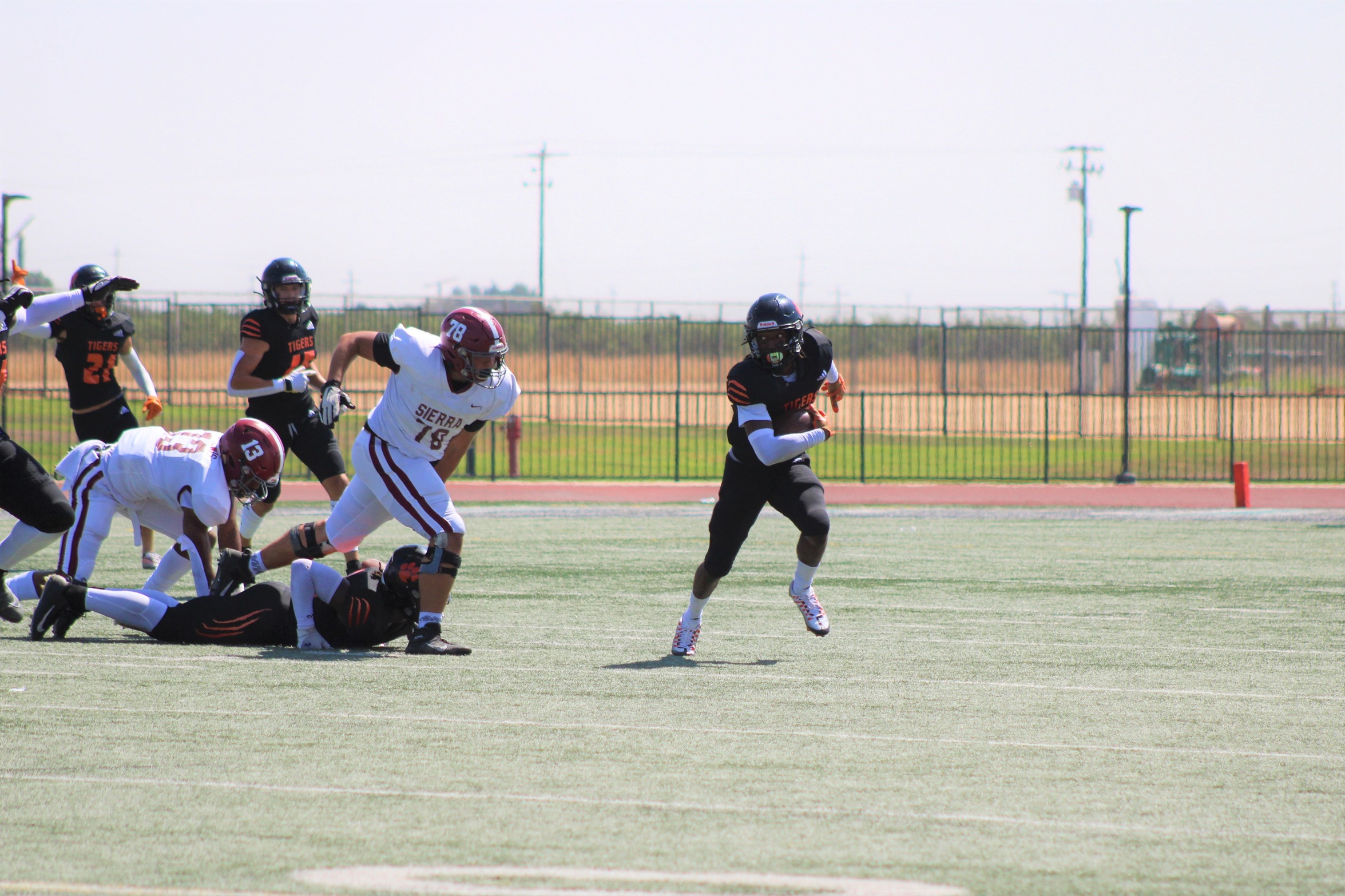 Three field goals off the foot of Sierra College kicker Logan Sheppard proved to be the difference as Sierra handed Reedley College its first football loss of the 2022 season Saturday afternoon in Orange Cove. Each team was held to a single touchdown in Sierra's 16-10 win.
Next up for the 2-1 Tigers is a Friday night non-conference contest at Diablo Valley College in Pleasant Hill. Last Saturday, Diablo Valley fell to 1-2 on the season with a 20-9 loss to Shasta College.
The following week, Reedley hosts Santa Rosa Junior College in a 2 pm Homecoming contest in Orange Cove.
Most of the Saturday scoring was in the second quarter as both teams managed only a field goal in the final period.
"That's a really good football team," said Tiger head coach Rob Hartenfels after the game. "We had a chance."
The Tigers got a field goal to close out the scoring with 1:14 remaining but Sierra recovered the ensuing onside kick.
After a scoreless first quarter, Sierra took a 6-0 lead on a pair of 37-yard field goals. The Tigers took a 7-6 lead as a 20-yard touchdown pass from DJ Stevenson to Antwan Ficklen capped a 62-yard scoring drive with 2:26 remaining in the first half.
But Sierra roared back to take a 13-7 lead at the break, scoring on a 5-yard pass from quarterback Michael Wortham to De'Angealo Lewis with just 52 seconds left in the first half.
'The boys fought hard," said the coach. "We've got a lot of cleaning up to do before we go at it against a great team this Friday."
Coach Hart said there were wouldn't be a quarterback controversy between Josh Magana (who completed 14 of 19 for 61 yards with a long of 14) and Stevenson, who completed 6 of 13 for 72 yards and a touchdown. The two quarterbacks combined for 15 rushing attempts for 92 yards, compared to only 10 attempts for 46 yards for the three running backs.

Shamar Hawkins led the defense with eight total tackles and two assists.
By: Will Goldbeck