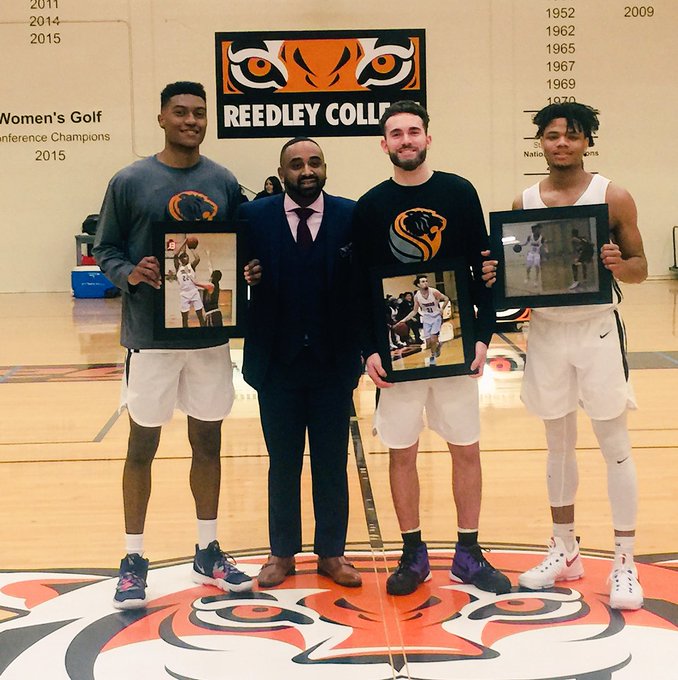 A pair of road games in Coalinga and Fresno will wrap up the season for the Reedley College men's basketball Tigers this week.
Head Coach T.J. Jennings' squad took a Central Valley Conference record of 3-11 and an overall mark of 9-17 into a Wednesday, Feb. 20 contest at West Hills Coalinga before facing undefeated conference champion Fresno City College at 6 pm Saturday in Fresno.
The Tigers honored sophomores Ruben Parks, Cole Taber, and Tyre Hicks before last Saturday's 82-71 home loss to second-place Columbia. The Claim Jumpers had five players score in double figures, led by Maurice Woods, who scored the team's last 16 points of the first half and finished with 31.
Parks took 24 shots and led Reedley with 23 points, making four of his five 3-pointers in a second-half comeback. Freshman James Hannah netted eight points in each half to finish with 16 while Taber netted 11 points.
Reedley built a 57-24 halftime lead before recording an 88-66 win at winless West Hills Lemoore on Feb. 13. Six Tigers scored in double figures, led by 16 points by both Hicks and Taber. The latter contributed 10 rebounds and six assists. Parks followed with 15 while freshmen Alex Olukoya and Khalid Wilkins each had 12. Hannah netted 10 points.
By Will Goldbeck