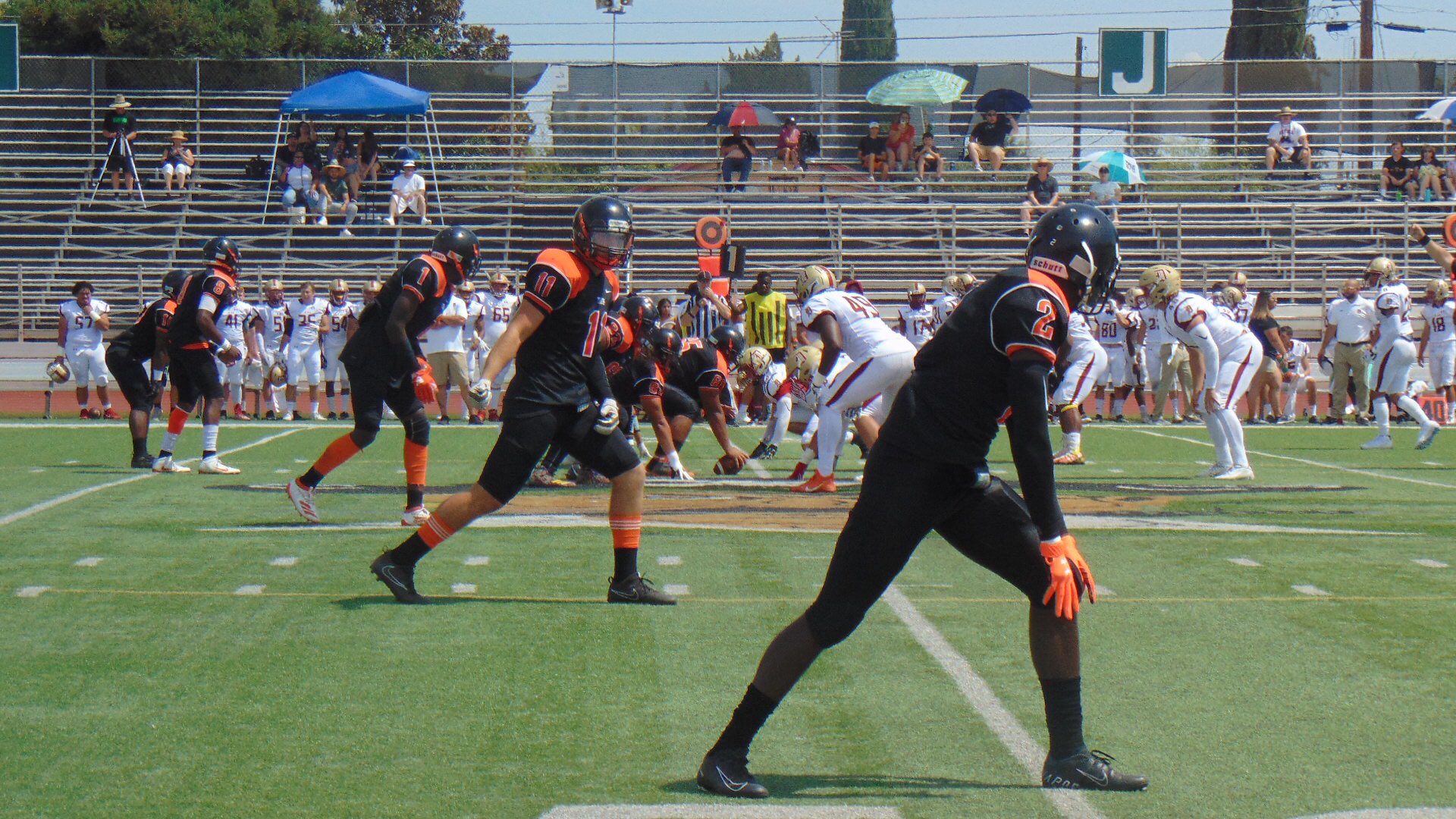 If you go by the preseason rankings, Saturday's matchup between the Reedley College Tigers and the DeAnza College Dons will be the Tigers' only matchup of the regular season against a ranked team.
The Tigers ranked 25th in the state by the JC Athletic Bureau, outscored the 23rd ranked DeAnza College Dons 47-28 Saturday afternoon at Reedley High's Sal Gonzalez Field.
DeAnza came into the contest with a 10-game winning, which was tied with Chaffey College for the longest in the state. The last win was a 42-41 postseason thriller over the Tigers in Reedley last November.
This time, Reedley had a 9-0 lead after the opening 77 seconds. A bad snap on attempted punt rolled out of the end zone for a safety 34 seconds into the contest. On the second play after the free-kick, sophomore Jamon Chambers (Tacoma, WA) sped through a huge hole and went 50 yards for the season's first touchdown. Jorge Rosales (Arvin) added the extra point to make it 9-0.
De Anza cut the deficit to two points later in the first quarter, thanks to the running of Jevon Sturns. The sophomore from San Jose broke loose for a 55 yard run to the Tiger 20. Six plays later, Stearns scored from 2 yards out.
But Reedley scored the next 28 points to put the game out of reach. Arman Hickson Hickson (Suwannee, GA) threw three of the four touchdown passes, one of them to Andy Pierre-Antoine (North Miami, FL) who had all four of his receptions in the first half for an even 100 yards. Hickson completed 15 of 23 passes for 197 yards. Drew Zaubi (Crestwood, KY) also had a touchdown pass to Pierre-Antoine.
River Walker (Jacksonville, FL), listed on the roster as a quarterback, saw action at receiver and caught a touchdown pass from Hickson.
Chambers recorded 230 all-purpose yards, recording 95 yards in nine carries, two receptions for 21 yards and a score and 114 kick return yards, which included an 88-yard return for a fourth-quarter score.
Reedley outgained DeAnza 493-379.
"We worked really hard to be prepared for week one," said Tiger head coach Eric Marty, who mentioned the summer program and the commitment of the players and assistant coaches. "You don't always see it pay off that visibly. We were clearly ready to come out and play the game. They came out and made that mistake early. All of a sudden, we punch it in."
The Tigers travel to Yuba College next Saturday for a 1 pm contest. The 49ers opened 2019 with a 28-3 loss in Salinas to the Hartnell College Panthers.
By: Will Goldbeck